ZHAAWANART NEW FISHER STAR CREATIONS


Storytelling through fine art & jewelry: a unique project by storyteller artist Zhaawano
Jewelry artist designer sharing Anishinaabe tales under the light of the Fisher Star
_____________________________________________________________________
"There is a story to every piece"


Native Woodland artist Zhaawano Giizhik presents to you with a grateful heart his art project named New Fisher Star Creations, a venture of unbound Love, Vision, and Creativity in the ancient and sacred tradition of the Anishinaabeg and Ininewak (Cree) storytellers. The traditional, allegorical narrative of the constellation of the Fisher Star, Zhaawano's favorite tale, runs through his blood and his works of art. As a jewelry artist and storyteller at heart Zhaawano offers you an exciting variety of exclusive handcrafted jewelry and wedding and clan rings. The website was originally set up as a joint art project; a dynamic platform for showcasing written stories and poetry and, occasionally, fine art by himself and by kindred artists who draw from the same cultural and artistic source as he does. Please view your favorite menus by clicking the links in the vertical top menu bar - or, if you are using a cell/smart phone, the navigation button at the top of your screen.
In his jewelry and writings Zhaawano tells the aadizookaanan, the legends and sacred stories of his ancestors — because stories were used as a teaching tool long before there was a school. The stories and narratives that are being shared on this website are as strongly allegorical as in the old tradition of storytelling, yet they also contain lessons that reflect today's world. Woven around his and kindred artists' fine art & jewelry and carefully wrapped in ancient metaphors and age-old symbolism, each one of Zhaawano's story pieces is a teaching mirror, instilling in the minds of those who make the effort to look init a living sense of human potentials and infusing their hearts with the power of humility and love...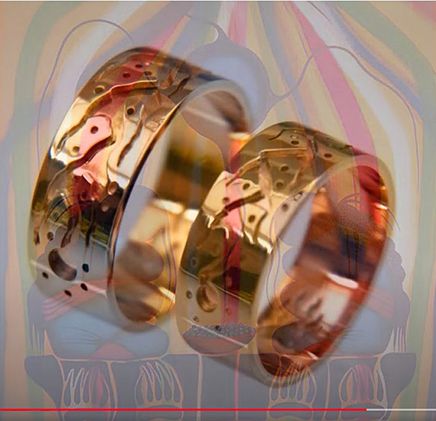 In today's spotlight:
The Medicine Road: these one-of-a-kind wedding rings, which Zhaawano crafted by hand from white and red gold, testify to the sleek and mysterious beauty of Zhaawano's graphic outline style jewelry-making. Zhaawano's elegant hand-hammered designs, which forge a precious link with the pathways of his ancestors, renders the ancient art forms of the Anishinaabeg Peoples on rock, copper, and birch bark into an individual, contemporary approach to working precious metals.
It is an honor to share with you the sacred story of these bicolor gold overlay wedding rings depicting a cut-out symbol of the Midewiwin Life Road and with, in their interiors, a stylized cut-out design of a bear paw, symbol of "good medicine."
Makwa, the bear, is symbolic of the Anishinaabeg themselves: both bear and humans "walk the bear path," in a ceremonial context as well as in every-day life. Anishinaabeg have always mirrored themselves in Makwa's yearly pattern of hibernation, isolation, and emerging with new life in the spring. This is why still today certain coming-of-age rituals follow this cyclic pattern and invoke the bear's power of renewal...
>> Visit the Wisdom series to view similar Life Road rings
Zhaawano's Talking Pieces: contemporary storyteller jewelry and wedding rings - inspired by Native American Anishinaabe Clan & Storytelling traditions
ZhaawanArt New Fisher Star Creations is proud to offer you a great variety of one-of-a-kind, highly finished Native American-inspired wedding rings, wedding jewelry, storyteller jewelry, and clan rings, all made of Eco-friendly gold, silver, platinum, and various other metals.
Throughout the years Woodland Art jeweler Zhaawano developed a distinctly personal style, drawing on traditional Native American silver and goldsmithing techniques as well as on Ojibwe (Anishinaabe) form and symbol, yet adding his own contemporary sense of color and design. Each and every piece, designed and made by hand with a special prayer, tells a unique story; every single project that leaves his workbench shows certain personal touches of his artistry, his individual style showing through the larger traditions.
A unique collection of Storyteller rings based on ancient teachings: An introduction to the Seven Grandfathers - See the below slide show
Where does the name "New Fisher Star Creations" come from?
What else can be said about Zhaawano's art project named New Fisher Star Creations, and the origin of the name? As Zhaawano grew up he heard many traditional stories about the stars and he learned that, since it is believed that stars move from east to west, new life and knowledge emerge from Waaban, the eastern sky and that the spirits of those who pass on travel to Ningaabii'an, the Western Sky. He also learned that the most well-known and beloved asterism in Anishinaabe lore is the Big Dipper, which is part of the greater Ursa Major constellation. The Big Dipper is called Ojiig-anang or Ochikatak (Fisher Marten Star) by the Anishinaabeg and the Ininewak.
It was in the course of 2012 that, under the sacred guidance of the Fisher Marten Star, Zhaawano chose to walk the creative path with his then artistic parter Simone McLeod - which eventually inspired him into creating this art project and website.
Now, almost a decade later, the friendship and artistic collaboration called "Fisher Star Creations" have come to an end, but the stories continue, under a new name: New Fisher Star Creations...
ZhaawanArt Storyteller Creations Facebook page: poetry and short stories by Zhaawano
Native Woodland Artists, Medicine Painters & Jewelers Facebook page
The road to regaining pride in culture and self
"The Power of Spirit Memory"
Being a contemporary Native Woodland artist inspired by the past, Zhaawano looks to the traditional symbols of the Anishinaabe Peoples as a foundation of a great variety of jewelry designs, poetry, and written stories.
By using ''spirit memory,'' the remembrance of ancestral knowledge, Zhaawano seeks to re-introduce through his storytelling and works of art (and, on occasion, through the works of of kindred artists) the ancient world view of his People and channel it into the contemporary consciousness. In other words, he uses his skills and acuteness to find artistic ways to translate the cultural expressions of yesterday into the language of today, and render them into contemporary imagery that captivates the minds, opens up the hearts, and fires the imagination of everyone who lays eyes on it. This art project, or creative collaboration of kindred spirits, is called "New Fisher Star Creations."

New Fisher Star Creations was initiated by Zhaawano in the hope to be able to help his People make aware of, and give them a sense of pride in, their culture and the lifeways of the ancestors - and, most important of all, to help them regain a quiet and benign sense of pride in themselves and make them aware of all that they can accomplish in the here and now.

Miigwech for embarking with New Fisher Star Creations on this wonderful creative and spiritual journey...

Eco-gold recycling via a traceable closed-loop process is what
New Fisher Star Creations has been practicing for years. In the process of creating the Eco-friendly gold, silver, and platinum that we use in our fine jewelry and wedding rings, scrap metal coming from our own studio is melted and reworked into sheet and wire. This recycling treatment removes any impurities. In order to ensure that the melting involves only recycled precious metal, it is thoroughly segregated to avoid contamination with any other metals throughout its audited recycling process.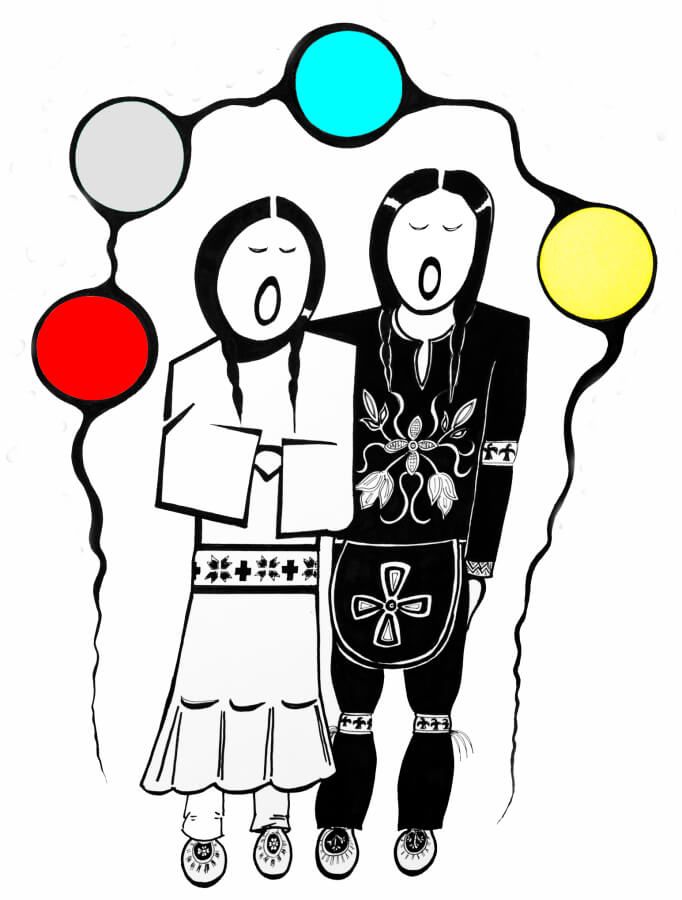 Learn more about the Seven Grandfather Teachings of the Anishinaabe Midewiwin that provide a unique theme to my jewelry, wedding & clan rings, and written stories.
- Illustration: Pen-and-ink drawing by Zhaawano