Silver wedding rings "Spirit of the Sleeping Giant"
Contemporary expressions of ancient Anishinaabe imagery
Price range: 400.00 USD /530.00 CAD - 1,180.00 USD /1,570.00 CAD per wedding ring set*
We proudly present our new collection of unique appliqué and overlay wedding and engagement rings handcrafted in eco-friendly sterling silver. Silver rings are more affordable than gold rings; thick plate of high-quality sterling silver is used to compensate the lower durability of silver.
The collection is inspired and infused by the ancient spirit of the Sleeping Giant, a mystical landmark of Gichigami (Lake Superior).
A petrified manidoo resting in an opening of Thunder Bay, the Sleeping Giant is said to be the friendly spirit Wiinabozho whom the Great Mystery turned into stone in order for him to guard the bay and its sacred copper and silver deposits against the greed of foreign invaders...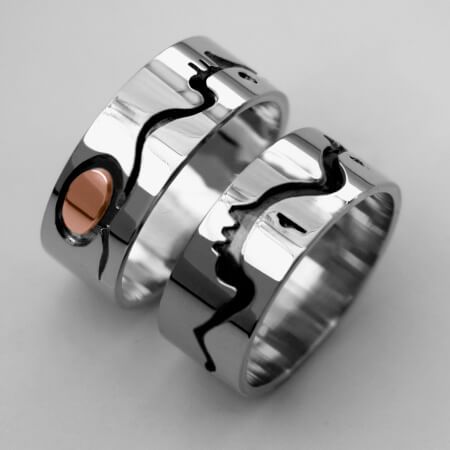 The spirit of the Sleeping Giant
Title: Wenabozho Aanji'onishkaa (Nanabush Reawakens)
Type: Ojibwe-style graphic overlay wedding ring with inlay, oxidized outlines, belongs to the Mother Earth series.
Materials: Sterling silver (ring shanks) and 14K red gold (inlays)
Thickness: 0.071 in (1.8 mm)
Width: 0.354 in / 9 mm
Set price from: 900 USD* / 1,065 CAD*
Item: SILVERWR-17
________________________________________________
*Prices are indicative and depend on the current silver price and exchange rates and on your ring sizes. Shipping costs and possible tax rates excluded. Please see Order guide for information on costs of delivery. Note that persons holding a Canadian First Nations status card and living and working on their reserve are generally tax exempt.
Click the below button to order. Please mention the item number and ring sizes! See the instructions at the bottom of this page for ring sizing.
About the Wiinabozho Aanji'onishkaa (Reawakening of Nanabush) wedding rings
Sterling silver wedding bands designed and handcrafted by Zhaawano, depicting the dramatic outlines of Nibaad Misaabe (the Sleeping Giant). The sides of the wedding rings show graphic insides containing ovally shaped designs of 14K red gold and sterling silver (the latter are not visible in the photo.) These inlays symbolize the, respectively, copper and silver deposits in the area of Thunder Bay, Ontario, which since time immemorial hold a sacred meaning for the Anishinaabe Peoples who inhabit the Great Lakes district. See our art blog to read more about Wiinabozho, the Sleeping Giant, and the traditional role of zhooniyaa (silver) in Anishinaabe culture.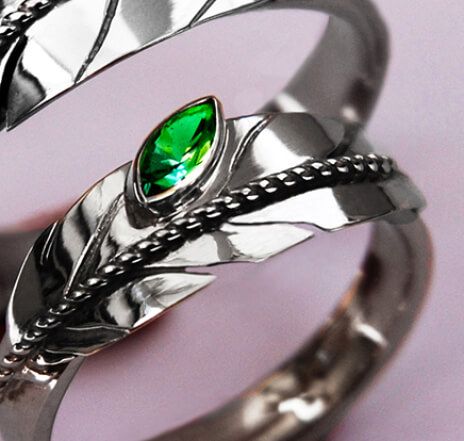 The unique spirit of our silver eagle feather engagement rings
Jeweler Zhaawano's elegant eagle feather engagement rings are living prayers. The sylized feathers adorning the rings tell a sacred story that has been taught and told by countless generations of spiritual teachers and storytellers.
The rings are a unique mixture of affordability and simple elegance. The stories of the rings are still very much alive today. Their meaning, deeply rooted in the collective memory and cultural consciousness of the Anishinaabeg and Ininewak (Cree) Peoples, are also universal since they touch our everyday lives and relationships.
The eagle feathers of the rings stand for the spirit of life and for the search for thruth in all things. The gems that adorn the feathers symbolize a personal quest of fulfillment and are statements of individuality of the the lady who's going to wear the ring.
See below more sterling silver wedding ring sets from the Spirit of the Sleeping Giant series
*Prices are indicative and depend on ring sizes and the current exchange rates; shipping costs and possible tax rates are excluded.
About the wedding rings and the technique of overlay
"I use what I like to call the pictographic-overlay technique for some of my silver wedding rings as well as for many of my gold wedding rings, clan rings, and jewelry designs. In case of the overlay rings that you see on this page, this essentially means that I solder a piece of silver plate with a design cut out on top of a solid plate of the same material, making a negative design - called inside graphics - some of which have gold inlays - which is usually oxidized (darkened) in order to make the design stand out against the polished or matte surface of the wedding ring. I like to believe that the use of graphic overlay, which, if executed well, results in minimalist designs of striking simplicity, provides a genuine depth of meaning to my wedding rings. I want the contrast and dramatic movement of (the sometimes black outlined) forms and flowing lines, which are inspired on the ancient mazinaajimowin, the painted dreams and instructions that my ancestors left on rock, copper, leather, and birch bark, to capture the core essence of what I am conveying. Which is: to render a metaphorical, or rather, hidden, meaning in a way that anyone can relate to the universal nature of the imagery."
- Zhaawano Giizhik
Prices and ring sizing
PLEASE NOTE: The cost of precious metals is fluctuating weekly. Although prices on this website are being updated on a regular base, they are merely indicative. Contact us for a customized price quotation if you find a set of wedding or clan rings or a piece of jewelry you are interested in ordering. Please do not forget to mention the item number and the exact ring sizes in case you ask for a price quotation for wedding rings or clan rings.
Some considerations when measuring ring sizes:
Professional sizing methods are more reliable and accurate than online or at-home methods. Professional sizing can be done at a local reputable jeweler.
It is important to take into account the width of your ring band as wider bands typically require a larger size to fit comfortably. It is therefore always best to be sized with a professional jeweler's ring sizer of the same width as the one you intend to purchase.
The best size is usually the ring that fits snugly and gives a little resistance when you take it off. If you have additional questions, please do not hesitate to ask.